AdGenie Services – How It Works
Services
Measure the effectiveness of your ads by tracking the responses of each campaign
Select a call measurement telephone number (local or toll-free) in real-time
Place the number on a marketing campaign
Inbound calls are tracked and the caller's information is captured
An audio recording of both sides of the conversation is saved
Subjective information can be attached to a call (handling agent, call result, etc.)
Real-time results are available at AdGenie.biz or via XML feed
Calls may be saved / shared online
Useful for marketing analysis, training, verification and evaluation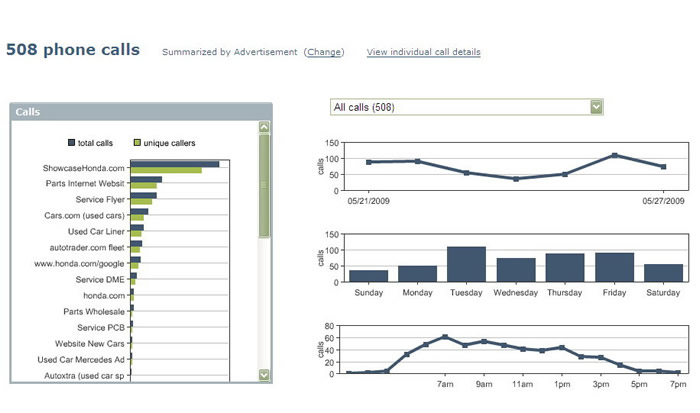 Track and record outbound calls going from employees to customers
No equipment or hardware is involved – use your existing phone system
Agents can enter an ID code before placing the call to receive credit for activity
Same measurement / evaluation capabilities as inbound call measurement
Real-time results are available at AdGenie.biz or via XML feed
Calls may be saved and shared online
Useful for training, verification and evaluation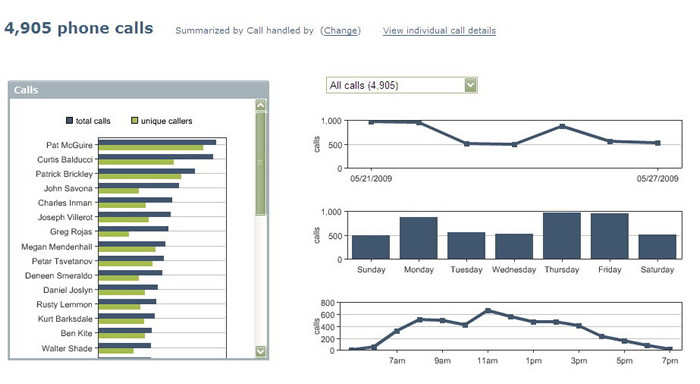 Dynamically change the contact phone numbers on your website based on our script that is loaded on each page
Create reports that show the results of all online marketing campaigns
Reports demonstrate the relationship between clicks and calls
Learn which online campaigns are resulting in conversions – both online and offline
Measure the effectiveness of your ads by tracking the responses of each campaign
No special landing pages are required – advertiser may use existing website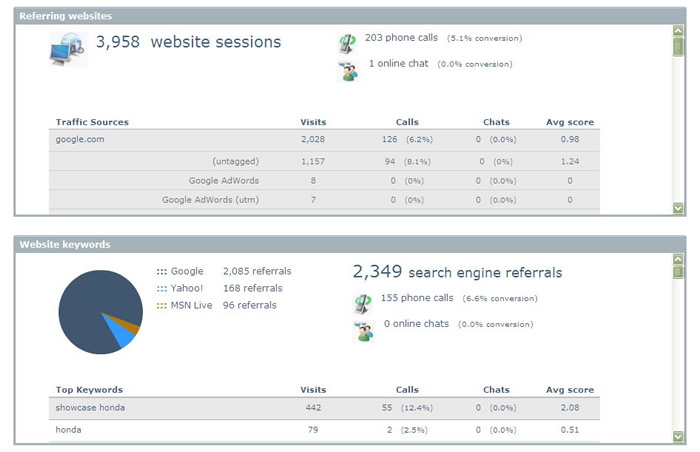 Scheduling
User can setup a number to change its ring-to setting every day at a certain time. This is useful for (1) small business managers who want calls to come to their cell phones when they leave the office each day and (2) advertisers who are utilizing call centers to handle after-hours inquiries.
Round-robin / call rotation
Calls will rotate to multiple ring-to numbers based on the established routine. The first call goes to the first ring-to number listed, then the next call will be sent to the second ring-to number on the list. This feature is typically used for sales teams that want to share incoming leads across multiple employees.
CallerID Routing
A single call measurement number can ring to different offices based on the caller's phone number. Example: if the call comes from area code 214, forward to Dallas office. If the call comes from 202 or 703, forward to DC office. Anything else goes to New York office.
Menu routing – (now available!)
A single call measurement number can have a PBX-like greeting that helps callers navigate to the proper ring-to. "For our Dallas office, press1. For our New York office, press 2. For our Washington DC office, press 3."
Live-response seeker – (coming soon)
A single call can try multiple ring-to numbers in search of a live response / pickup. The call rings to 877-707-6005. If no one picks up in a specified amount of time, then the call gets forwarded to 877-707-6005. The call can get forwarded up to three times.
Learn About Our Lead-Gen Systems
Sign up to receive ongoing info about AdGenie's
Small Business Lead Generation Systems.
 Measurable
      Measure, Monitor, Analyze and Respond
Measure Effectiveness
Monitor Performance
Analyze Data
Respond Quickly and Effectively
Manageable
      Transparent, Dependable and Affordable
Transparent Call Capture
Dependable On-Line Access
Affordable Pricing Packages
                Simple, Easy and Effective!